Il Fondatore
(See below English text)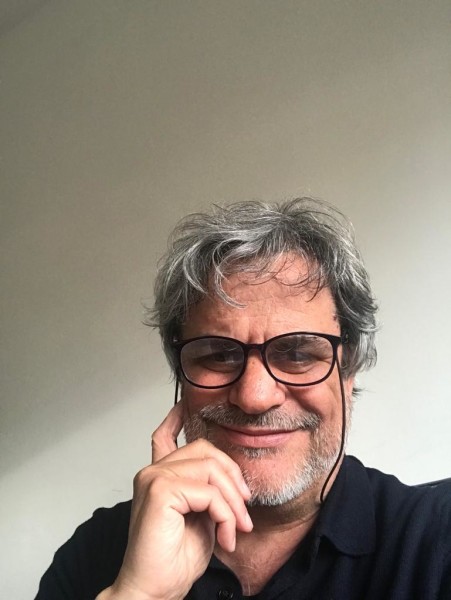 Negli anni '70 ancora studente di architettura, sono stato con il mio gruppo Studio AAD – architetti associati, esponente di quel movimento che rivendicava un ruolo radicale per l'architettura ed il Design. I nostri progetti avevano per tema le utopie sociali, convinti che solo risposte critiche e provocatorie avessero la capacità di rivoluzionare la realtà e l'establishment culturale.
Dopo questo periodo durato alcuni anni, ho iniziato una lunga attività nei campi del design e dell'architettura in Italia e all'estero. Ho curato l'Art Direction, il design e l'immagine aziendale per molti noti marchi del settore mobili, illuminazione, vetri di Murano, ceramiche, porcellane, gioielli. Ho progettato architetture, Interni, show rooms, stand espositivi a Milano, Roma, Venezia, Francoforte, Dusseldorf, Los Angeles, New York. Oltre a questo mi sono dedicato all'Art design del vetro, nella pluriennale collaborazione con il marchio I LIRICI a Venezia ed anche alla grafica. Per quanto riguarda le mie precedenti esperienze didattiche, nel 1988-89 ho condotto seminari di Design-management del vetro, nell'ambito di Master post-universitari promossi dal Politecnico di Milano. In un altro periodo, ho supportato (come correlatore) alcuni brillanti studenti dell'Istituto Superiore di arti industriali, nella presentazione delle loro tesi di laurea in Design (sul tema degli oggetti per il viaggio).
Dal 1995 tutte queste esperienze sono confluite a livello di ricerca, verso la bioarchitettura e il design ecologista; verso le tematiche sociali ed ambientaliste con l'organizzazione di convegni sulla Decrescita, sui Beni comuni; ma in particolar modo dai primi anni del 2000, verso lo studio del Feng Shui classico, disciplina che insegno nei corsi della Fengshuiroma Architecture&Design School. E' il Feng Shui ormai da anni, l'attività che mi vede impegnato in modo prevalente nella conduzione della Scuola e nell'elaborazione dei suoi programmi con l'obiettivo di consolidare un Centro Studi e Formazione Feng Shui di eccellenza. Non ultimo l'internazionalizzazione degli insegnamenti in partnership con Masters e Consultants di alto profilo (in lingua inglese e con traduzione in consecutiva per gli studenti italiani) è il fiore all'occhiello che offriamo ai nostri studenti italiani ed esteri.
Per la diffusione di questa pregevole disciplina, ho tenuto conferenze pubbliche, scrivo articoli; curo l'editing del materiale didattico della Scuola. Seguo personalmente le progettazioni per le consulenze di architettura Feng Shui, di cui vi si trovano alcuni esempi nel sito.
Luigi Straffi
Founder & Teacher of Feng Shui Roma Architecture & Design School
Avvicinatomi allo studio del Buddhismo alla fine degli anni 90, ho avuto la fortuna di ricevere insegnamenti da gentilissimi Maestri tibetani e da S.S. il Dalai Lama. Sono stato discepolo, fino alla sua scomparsa (2008) di Ghesce Sonam Jangchub, Maestro residente (dal 1985) dell'Istituto Samantabhadra, Centro Studi di Buddhismo e cultura tibetana; dal 2002 al 2008, ho servito l'Istituto come presidente.
In ambito associazionistico, sono portavoce di Neworld, un'associazione ecologista che raccoglie informazioni sui conflitti ambientali/sociali del pianeta; organizza mostre d'arte contemporanea legate agli stessi temi.

English text
In the 70s still an architecture student, I was with my group Studio AAD – associated architects, exponent of that movement that claimed a radical role for architecture and design. Our projects had social utopias as their theme, convinced that only critical and provocative responses had the ability to revolutionize reality and the cultural establishment.
After this period which lasted a few years, I started a long activity in the fields of design and architecture in Italy and abroad. I have curated the Art Direction, the design and the corporate image for many well-known brands in the furniture, lighting, Murano glass, ceramics, porcelain, jewelry sectors. I designed architectures, interiors, show rooms, exhibition stands in Milan, Rome, Venice, Frankfurt, Dusseldorf, Los Angeles, New York. In addition to this, I dedicated myself to the art design of glass, in the long-term collaboration with the I LIRICI brand in Venice and also to graphics. As for my previous teaching experiences, in 1988-89 I conducted design-management glass seminars, as part of post-graduate Masters promoted by the Polytechnic of Milan. In another period, I supported (as co-supervisor) some brilliant students of the Higher Institute of industrial arts, in the presentation of their thesis in Design (on the theme of objects for travel).
Since 1995 all these experiences have come together on a research level, towards bio-architecture and ecological design; towards social and environmental issues with the organization of conferences on Degrowth, on Common Goods; but especially from the early 2000s, towards the study of classical Feng Shui, a discipline that I teach in the courses of the Fengshuiroma Architecture & Design School. It has been Feng Shui for years now, the activity that sees me mainly engaged in running the School and in developing its programs with the aim of consolidating an excellent Feng Shui Study and Training Center. Last but not least, the internationalization of courses in partnership with high profile Masters and Consultants (in English and with consecutive translation for Italian students) is the flagship that we offer to our Italian and foreign students.
For the diffusion of this valuable discipline, I have held public conferences, I write articles; I take care of the editing of the school's teaching material. I personally follow the designs for the Feng Shui architectural consultancy, some examples of which can be found on the site.
Luigi Straffi
Founder & Teacher of Feng Shui Roma Architecture & Design School
Approaching the study of Buddhism in the late 90s, I was lucky enough to receive teachings from very kind Tibetan Masters and from S.S. the Dalai Lama. I was a disciple, until his death (2008) of Geshe Sonam Jangchub, a resident Master (since 1985) of the Samantabhadra Institute, Center for Studies of Buddhism and Tibetan culture; from 2002 to 2008, I served the Institute as president.
Within associations, I am the spokesperson for Neworld, an ecological association that collects information on the planet's environmental / social conflicts; organizes contemporary art exhibitions related to the same themes.
Contatti: luigi_straffi@fengshuiroma.net
Linkedin: https://it.linkedin.com/in/luigi-straffi-39750032
Esperienze professionali/ Professional Experiences
Architecture
Industrial Design
Corporate Image
Feng Shui Consultancy
Feng Shui Teacher